Rev. Dr. Christopher Michael Jones
"All things are possible through Christ Jesus who strengthens us"
Philippians 4:13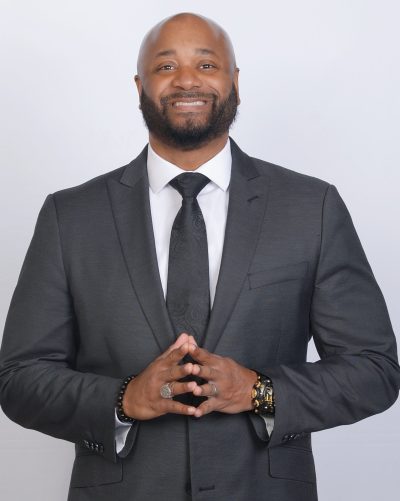 An educator, practical theologian, grassroots organizer, former multi-platinum record producer and columnist for magazines like Ebony, Essence, and Life Magazine, the Reverend Dr. Christopher Michael Jones currently serves as Senior Pastor of First Baptist Church of Hillside in Hillside, NJ. Dr. Jones strives to remain committed to sharing a prophetic message of love, social uplift, self-empowerment and economic justice. A true hybrid of Hip-Hop and the Christian Church, Dr. Jones leans into a communication methodology which reaches multiple generations by lovingly keeping it real and making the Gospel plain through powerful preaching, insightful teaching, and creative writing.
A native of Queens, NY, Dr. Jones currently serves as Faculty Mentor of the inaugural "Building and Bridging: Transformational Approaches to Pastoral Leadership, Prophetic Preaching, and Spiritual Formation" Doctor of Ministry Degree Program at United Theological Seminary in Dayton, OH. Dr. Jones has also served as the Visiting Professor of Preaching and Worship at New Brunswick Theological Seminary. While serving at NBTS, Dr. Jones served as Adjunct Professor of Pastoral Administration and Co-Mentor to the Doctor of Ministry Degree Program in Pastoral Care and Counseling. More recently, Dr. Jones has served as Adjunct Professor of Pastoral Leadership at Pillar College. Dr. Jones has also served as Guest Lecturer at Long Island University-Brooklyn focusing on Faith and Public Policy. Firmly rooted in his commitment to the work of the church, empowering the local community, and teaching in the academy, Dr. Jones maintains a strong commitment to retooling and encouraging pastors, seminarians, organizational leaders and volunteers in parish ministry as well as the public marketplace.
A graduate of Forest Hills High School, Dr. Jones graduated Summa Cum Laude from Rutgers University earned his Master of Divinity Degree from Princeton Theological Seminary and also earned his Doctor of Ministry degree from Memphis Theological Seminary with a concentration in Preaching as Pastoral Care in the African American tradition. Dr. Jones has studied at many other institutions of higher learning including the University of Oxford as a Graduate Fellow of Theology.
Most recently, Dr. Jones was appointed Chaplain of the Hillside Police and Fire Department in Hillside, NJ. He is the first African American to be appointed to serve as Chaplain to both departments in Hillside's 104-year history.
166 Hillside Avenue
Hillside, NJ 07205
Sunday Worship 10:30 am
Wednesday Bible Study 7:00pm